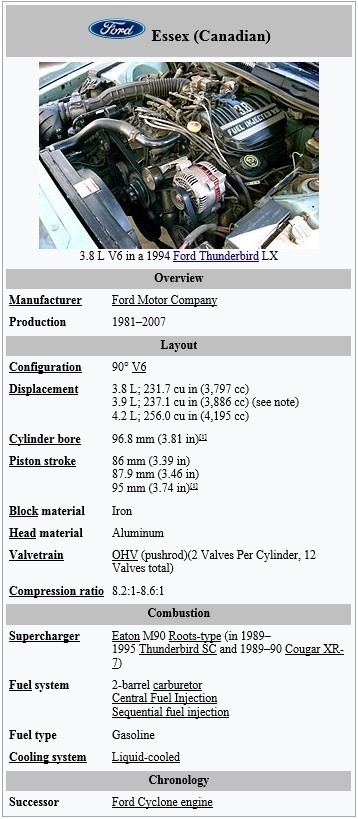 The Ford Essex V6 engine was a 90° V6 engine family built by Ford Motor Company at the Essex Engine Plant in Windsor, Ontario, Canada. Unlike the British Essex V6, the Canadian Essex used a 90° Vee configuration, in addition to having different displacements and valvetrain. This engine was succeeded by the Ford Duratec 35, and the last one produced was found in 2008 F-150 (regular cab only).
The Canadian Essex is an overhead valve (OHV, or pushrod) design featuring aluminum heads, which reduced its weight considerably and made it a very powerful engine for its size. The engine was initially offered in only a 3.8-liter displacement, being used in a variety of subcompact through large cars, minivans, and some pickup trucks. A 4.2-liter version was introduced in the mid-1990s for use in the F-150 and Ford E-Series, later, the Freestar and Monterey.
The 3.8–liter V6 was replaced by a 3.9 L version in 2004, though changes were minimal. The Essex and the smaller Vulcan V6 were the last traditional overhead valve engines built by Ford until 2019.
Design
The Canadian Essex's origins are somewhat controversial. A common, but erroneous, belief is that the Essex was based on the 5.0 L OHV V8 engine with 2 cylinders missing, because they both have a 90° vee configuration, are OHV, and that a 5.0 L V8 less two cylinders would make a V6 displacing around 3.8 liters.
Though the practice of deriving a V6 from a V8 was not unheard of, several important differences between the small block's design and the Essex's, such as their considerably different bore and stroke, made a common design lineage implausible. It is also important to note that the RWD version incorporated the same bell housing as the 5.0 liter small block V8 engine while the FWD version did not.
Often the RWD engines are referred to as small blocks since the transmission mounting flange is the same as the family of small block V8 engines.
One source states that the Essex is instead a reverse engineered Buick V6 engine. Toward the end of the 1970s, Ford needed a new six-cylinder engine that was powerful and compact enough to be used in a mid-size car while meeting increasingly stricter emissions and fuel efficiency standards.
As Ford needed to develop a new engine, as none of their existing could be readily made to meet the new requirements, one needed to be developed. The quickest and least expensive approach in accomplishing this was to copy an existing engine from a competitor, which ended up being the Buick V6 from General Motors. Ford's resulting V6 was very similar to that of the original Buick engine — down to an unusual external oil pump design that was common in Buick engines and without precedent in modern Fords — and had a nearly identical displacement. In fact, one of the only major differences between the two engines early on was Ford's use of aluminum heads as opposed to the cast-iron ones used in the original Buick design. However, in the years since the Essex V6's debut, design revisions from both Ford and GM to their respective V6 designs have differentiated their engines from each other to a point that any relationship between the two designs is not as obvious as it once was.
Ford's 1982-83 published report to the Society of Automotive Engineers gives a full history of clean-sheet design targets and unhurried development. This account candidly details problems emerging during the preparation of 500+ prototype engines, and even with the first 5000 production engines. The latter had to be dismantled, with internal components then re-assembled into newly-cast blocks incorporating revisions for strengthening. This detailed report lays to rest speculation about the 3.8 engine's derivation from other Ford or GM designs.[4]
Ford engineers Armstrong and Stirrat described a design process initiated in 1977, with first prototypes running in 1978:
In 1977 Ford planners projected the need for a lightweight, compact, V6 engine as a replacement for the base V8 engine in the mid-size cars and light pick-up trucks of the 1980's. The prime objectives were light weight, excellent fuel economy and reliability. The initial design called for the maximum use of lightweight components, including die cast aluminum block and single plane intake manifold and aluminum semi-permanent mold cylinder heads. The 90 degree bank angle was chosen to provide minimum length and height, lowest weight and a wide intake manifold which would provide runner design flexibility for optimum cylinder to cylinder fuel/air distribution.
The essay noted that a cored crankshaft, stamped steel exhaust manifolds, and harmonic balancer and camshaft sprocket cast in aluminum were "lightweight features…deleted because of cost or other manufacturing problems." The switch to a cast-iron block was due to production costs, and not reliability concerns.
3.8
The first version of the Essex V6, a 3.8 L; 231.7 cu in (3,797 cc) engine, was introduced for the 1982 model year, appearing as an option on the Ford Granada.
Bore and stroke was 96.8 mm × 86 mm (3.81 in × 3.39 in). Output was 112 hp (84 kW) at 4200 rpm and 175 lb⋅ft (237 N⋅m) of torque at 2800 rpm. It initially had a 2-barrel Motorcraft 2150 carburetor on most applications, with 50-state Lincoln Continental and California Granada-Cougar-Thunderbird-XR7 cars given Ford's Motorcraft 7200 carburetor with variable venturi. Central Fuel Injection was made available in 1984. Output was 120 hp (89 kW) at 3600 rpm and 205 lb⋅ft (278 N⋅m) of torque at 1600 rpm in these models.
Multi-point fuel injection (single port) became standard on the 3.8 L (3,797 cc) V6 in 1988. All applications where the engine was used initially put out 140 hp (104 kW) at 3800 rpm and 215 lb⋅ft (292 N⋅m) of torque at 2400 rpm. Engines upgraded with Ford's EEC-V Powertrain Control Module (PCM) received a small increase in output to 155 hp (116 kW), if they did not have other enhancements to increase output beyond this already.
The 1991–1995 Police Package Taurus, 1991–1994 Lincoln Continental and 1995 Ford Windstar had a high-output version of the 3.8 with better cylinder heads and other modifications. It produced 155–160 hp (116–119 kW) and 220–225 lb⋅ft (298–305 N⋅m) of torque depending on application and model year.
A supercharged version of the 3.8 L (3,797 cc) V6 was used in the 1989–1995 Thunderbird Super Coupé and 1989–90 Cougar XR-7. Initial output of the engine was 210 hp (157 kW) at 4000 rpm and 315 lb⋅ft (427 N⋅m) of torque at 2600 rpm under an 8.2:1 compression ratio. The Super Coupé was the sole user of this engine after the beginning of the 1991 model year when it was replaced by a V8 in the Cougar XR-7.
Output of the supercharged V6 was increased to 230 hp (172 kW) at 4400 rpm and 330 lb⋅ft (447 N⋅m) of torque at 2500 rpm for the 1994 and 1995 Super Coupe. To accomplish this, the engine's Eaton M90 roots-type supercharger was given a larger, square-style inlet, a larger attaching inlet plenum, and Teflon coated rotors. Additionally, the engine received larger fuel injectors and an increase in compression to 8.6:1.
A 3.8 L (3,797 cc) V6 with split port cylinder heads was introduced in the 1996 Ford Windstar along with a variable length intake manifold and intake manifold runner control (IMRC) in the six shorter runners. This engine was rated at 200 hp (149 kW) at 5000 rpm and 230 lb⋅ft (312 N⋅m) of torque at 3000 rpm. The upper intake manifold has a sticker denoting "Split Port Induction" located on the passenger side of the forward plenum.
The Mustang version of the 3.8 L (3,797 cc) V6 was updated for 1999 to use the split port cylinder heads originally introduced on the Windstar. However the 1999–2000 Mustang did not use IMRC, instead leaving all 12 intake runners open at all times. Output of the V6 in these Mustangs was 190 hp (142 kW) at 5250 rpm and 220 lb⋅ft (298 N⋅m) of torque at 2750 rpm. With the addition of IMRC to Mustang in 2001, engine output increased slightly to 193 hp (144 kW) at 5500 rpm and 225 lb⋅ft (305 N⋅m) (305 N⋅m) of torque at 2800 rpm.
A nine-digit serial number appears on a label on the right side (front) valve cover. It also appears on a barcode label on the transmission side of the right side head.
Applications:
·        1982 Ford Granada                 1982–1983 Ford F-100
·        1982–1997 Ford Thunderbird and Mercury Cougar
·        1982–1986, 1994–2004 Ford Mustang           1982–1986 Mercury Capri
·        1983–1986 Ford LTD and Mercury Marquis  1988–1995 Ford Taurus and Mercury Sable
·        1988–1994 Lincoln Continental                      1995–2003 Ford Windstar
3.9
A 3.9 L; 237.1 cu in (3,886 cc) version of the Essex V6 was introduced in 2004. It used the same 96.8 mm (3.81 in) bore diameter as the 3.8 L (3,797 cc) Essex, but had a slightly longer 88 mm (3.46 in) stroke.[1] It was installed in a running change on later production 2004 Mustangs (starting October 7, 2003), though overall engine output was identical. Ford marketing information says that the bore is 3.8 inches (96.5 mm) and that the displacement is 3.8 L; 232.0 cu in (3,802 cc).[8] The bore and stroke, however, work out to 3.9 L; 237.1 cu in (3,886 cc). Use of the 3.9 was short-lived in the Mustang though as it was replaced by Ford's 4.0 L Cologne OHC V6 when the Mustang was redesigned for 2005. The 3.9 continued on in the Ford Freestar minivan (successor to the Windstar) for a few years until production of the engine was discontinued in 2007.
Applications:
·        2004 Ford Mustang     2004–2007 Ford Freestar
4.2
4.2-liter V6 in a 1998 F-150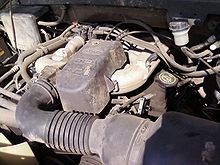 A 4.2 L; 256.0 cu in (4,195 cc) version of the Essex V6 appeared in the 1997 (through 2008) model year as a replacement for the durable, but aging, Ford 300 straight six in the F-150. Like the 3.8 it had 12 valves and pushrods, but the 4.2 featured a longer, 95 mm (3.74 in) stroke. Bore diameter was the same at 96.8 mm (3.81 in). Initial output of the 4.2 L (4,195 cc) V6 in the F-150 was 205 hp (153 kW) at 4750 rpm and torque of 260 lb⋅ft (353 N⋅m) at 3000 rpm. Ford Power Products sold this engine as the ESG-642 for industrial uses until 2015.
Ford experienced problems with this engine for the 1997 and 1998 model years. These included issuing all 1997-1998 engines made at the Essex Canadian plant with a bad front cover gasket. The lower-intake manifold had a bad reputation for cracking at relatively low miles. Ford resolved this problem by using a thicker gasket for 1999 model year, and 5 years later in 2004, it was modified again with a redesigned gasket that later became "industrial" certified as ESG-642 for Ford Power Products. It also served as a new and improved base engine for 2005+ F-150 regular-cabs.
Ford ended production of the 4.2 L (4,195 cc) V6 after the 2008 model year, marking the end of the Essex V6 lineup, while ESG-642 remained in production until 2015 by Ford Power Products, which the newer CSG-637 3.7L succeeded it. The engine's final recipient, 2008 F-150, was only available with V8 engines starting with the 2009 model year until the 2011 model year, when the 3.7L Duratec was introduced and made standard.
Applications:
·        1997–2008 Ford F-150            1997–2003 Ford E-150            1997–2003 Ford E-250
·        1998–2001 Ford F-250 (the only gasoline engine available for the LHD short-bed Brazilian-made version, while the Triton 5.4 V8 was restricted to RHD versions exported to Australia)
·        2004–2007 Ford Freestar       2004–2007 Mercury Monterey
·        2004–2015 ESG-642 by Ford Power Products